Once you've set foot in a hospital's COVID floor, there's no denying that the pandemic is real. 
Mandy Walters is a nurse in the step-down unit of Baptist DeSoto. Her floor stands as a buffer between the Med-Surg and Intensive Care Units, and was the first to receive a COVID-19 positive patient at the hospital.
"We started with a contingency plan of not if we get the patients but when we get these kinds of patients…so we were ready for them," Walters said. 
As soon as she received word of that first patient Walters rushed to the hospital, because she knew there would be fear and many questions coming from her nurses. 
"It was so uncertain, we didn't really know what we were dealing with," Walters said. 
Despite these reservations, multiple nurses volunteered to be the one taking care of that first patient. It's a major source of pride for her.
Even though many patients have come and gone since the first person with COVID-19, recent weeks have led to a renewed concern about the rapid rise of cases around DeSoto County.
"It's been very busy, very hectic over the past several weeks," said Dr. Shailesh Patel, chief medical officer at Methodist Olive Branch Hospital.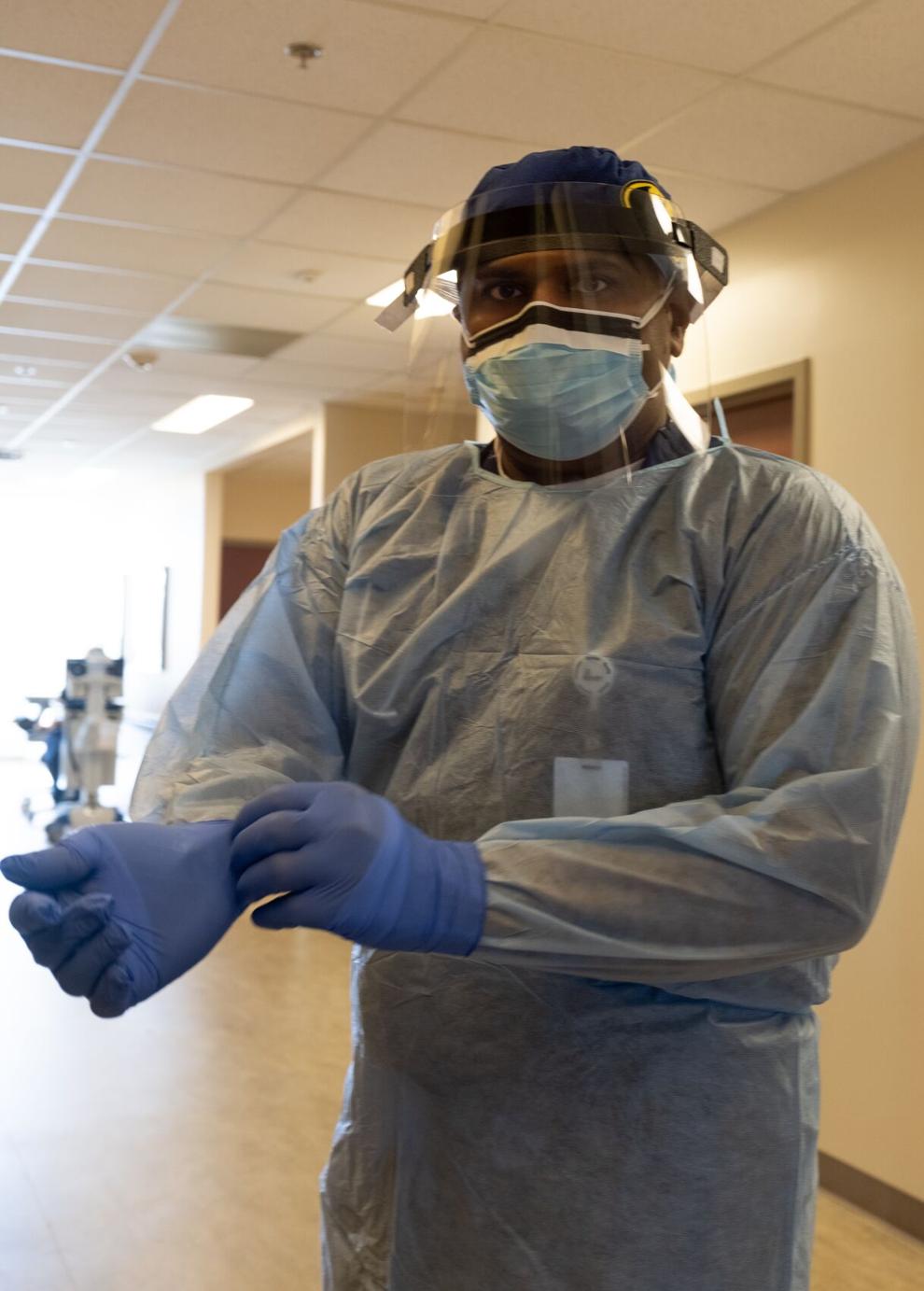 Ever since COVID-19 patients started coming to Methodist Olive Branch Hospital, non-infected people have been scared to come to the hospital to receive other medical attention. Many of these procedures should never have been put off, Patel said, and many are coming in all at once, desperately  in need of care. And it's far from over
"For the next week, of course, the numbers are going to increase," Patel said. "It really hits you then, that this thing is real and this thing is here to stay a while, in our opinion."
Patel said that he is mentally preparing for the virus to continue altering every aspect of life  through the end of this year, at least.
Though the reality of there being no end in sight is scary, Methodist in Olive Branch does have some advantage over other hospitals around the country, with ample personal protective equipment like masks, gowns and face shields.
Across the Methodist network of hospitals, much-needed equipment like ventilators can be shared.. Patel said the network of administrators throughout the Methodist hospitals have been their "saving grace."
Hospital staff across the county are learning with each new patient.
Doctors at Methodist now put on new sterile gowns — which have to be tied up by someone else — for each patient they see who have not tested positive for COVID-19, along with standard procedures like new gloves.
Though the gown change may be a small action, it can be time-consuming — sometimes taking three to five minutes per patient. 
For some procedures, the doctors and nurses also have to replace their masks. Dr. Patel, like many in the hospital, wears two masks with a face shield. He said that even replacing masks can be dangerous for personnel, as an old mask — if not removed carefully — can lead to infection.
The situation with each patient changes rapidly, with some going from having healthy oxygen levels to needing a ventilator within a few hours. 
The biggest struggle for Walters and her nurses though is watching patients suffer without their family members there. Patients are dying in their hospital every day with no one to hold their hand, and so the nurses are stepping to try to be that support system for their patients. 
Last week, Walters and another nurse stood in the room with a patient as they died because they believe nobody should have to die alone.
"That takes a toll on people," Walters said. "My nurse and I cried because we couldn't do anything to help her." 
Patel also noted the difficulty of watching patients fight the virus without loved ones nearby. 
"You can only imagine the mental toll it takes to not be with a family member in their final moments," he said.
Patel  recalled a time when his staff was having difficulty reaching a critically-ill patient's family. When they finally could get a call through, the mother of the patient offered a prayer for her son and the staff caring for him.
Though she firmly believes everyone has a right to their opinion, seeing the pandemic up close makes it sting when Walters sees people denying the seriousness of the pandemic or the effectiveness of social distancing measures.
"It's very disheartening to me, as a nurse to hear people just blow this off," Walters said. "But not everybody can see what I see day in and day out, and I'm grateful for that. Because not everybody can handle what we see every day."
When confronted with those people, Walters tries to communicate the severity of the situation and educate them as best she can. "And hope that it's not that one person that refuses to wear a mask that is going to be asking for our help one day."
Even though they can't be physically present, Baptist's staff is doing all they can to keep patient's family members informed. They call them with updates twice a day and set up video calls whenever possible. At the beginning of the pandemic, a patron donated iPads to the hospital for that purpose. So even if a patient doesn't have a camera phone, or is an older patient that isn't technologically savvy, their nurses are able to help them set up that link to the outside world. 
The past few months have also created a bond between those working inside the hospital that Walters says is unlike anything she's seen in her 12 years at Baptist. 
"We're all in this together. From housekeeping, to respiratory therapy, to our patient care assistants, to our nurses," Walters said. 
There has also been an outpour of community support that's meant everything to hospital staff. Some donate food, others pray over nurses as they begin their shifts. 
On Monday afternoon, Grammy-award-winning singer Lizzo bought lunch for the 100 Baptist DeSoto employees who were working in the hospital's COVID units. No one is aware of any connection between Lizzo and Baptist DeSoto, or Desoto County, but she has done the same in several other cities.
"We're all struggling or suffering in one way or another," Patel said. "Of course we have each other, whether a shoulder to cry on or a distant hug. The most important thing is the support loved ones are giving."
Though it is difficult for the public to support local healthcare workers from a distance, Patel emphasized — on three separate occasions — the importance of wearing masks, washing hands and avoiding crowds.
"This is not political. This is a real health crisis," he said. "If people are smart and just do the right thing, it will help everyone and help society."
Without following the guidance of experts to wear masks, avoid large gatherings and practice good hand hygiene, Patel said that there would be "a lot bigger crisis than we have right now on our hands."
For doctors and nurses at Methodist hospital, the lines between healthcare workers and patients have blurred — ten or more people on staff have tested positive for the virus.
"People have to keep in mind also that we as healthcare providers have loved ones as well," Patel said. "We have loved ones that are being affected by coronavirus in one way or another."
Patel's parents were just able to return from India, where they have been since March, because of the pandemic-related obstacles to travel. He also has family members in California who have tested positive for the virus.
"I feel in DeSoto county, we have been very lax, and I hope with the mask mandate, we can straighten this thing out again," he said. "Until it affects a loved one of yours, it may take that for your mentality to change. And I don't wish that on anyone, but sometimes that's what it takes."
As of Wednesday, both DeSoto County hospitals had high numbers of coronavirus patients. 
At Baptist Memorial Hospital in Southaven, 238 out of their 339 licensed hospital beds were full, 34 by COVID patients. Of their 36 ICU beds, 22 were full, 13 by COVID patients. Over the past three weeks, the hospital has more than doubled its stock of ventilators, growing from 30 to 65. As of Wednesday, 15 of those ventilators were in use, 11 by COVID patients. 
The Methodist Le Bonheur Hospital in Olive Branch has 73 licensed beds and 57 operated beds. Their capacity changes daily.
System-wide, MLH has 294 beds for ICU patients and 262 ventilators.
As of Tuesday, July 14, MLH had 68 COVID-19 positive patients in critical care (ICU) system-wide, which accounted for 23% of their ICU beds. They had 179 non-COVID patients, which accounted for 61% of their ICU beds.