Missing the American Dream: How the owner of a thriving restaurant lost her home to the coronavirus recession
Debbie Houck has weathered big changes in her businesses before, but there was nothing that could prepare her for the sudden shutdown that has plagued local businesses for much of 2020.Houck once owned a restaurant, but because of her changing health needs, she had to retool her business to only cater, which began around August 2019. Despite the transition, she found her footing and a new success — taking 15-20 catering orders per week at an average price of $250 per order.
Now — even amid a slight increase in business — she has one or two orders per week.
"I went from living in a $350,000 home, making a killing, to living in a hotel room because I couldn't pay for anything and I didn't want anyone else to pay for me. That's not the American Dream. That's everyone's nightmare," she said.
Even after running successful food operations for six years, she had difficulty as the pandemic turned the economy upside down.
"There was no business out there for me to obtain, you know. I walk with a cane. I've got to have two new knees, (with no insurance)."
When the shutdown began in March, she stayed with friends and was fed by them and local charities.
"To be honest, if it wasn't for places like the Samaritans, Colonial Hills, the Dream Center, Cross Point Church handing out stuff, I don't know how we would have made it," she said.
Houck is used to being on the other side of the lines to give food to people in need, coordinating and donating food to people across the county.
"You know, I've been in this community since 2000," she said. "For 20 years, I have made sure elderly and disabled people have Thanksgiving, made sure that thousands of children were taken care of for Christmas, and I see firsthand what they go through every day."
Now, knowing the hardships of others and herself, Houck has been frustrated with the lack of solutions from government leaders. She noted that through the pandemic, some countries have given their citizens $1,000 per month to survive, compared to the single stimulus check issued by the U.S. government.
"And our country, one of the richest countries in the world, couldn't?" she said.
She particularly noted the bickering between the parties in Congress, who still have yet to agree to a new stimulus package. Houck said the problem is deeper in the political system than national representatives.
"Our mayors, our councilmen, our representatives, our senators, our governors — they need to be fighting for us, not what's good for a political party," she said. "I hear, on the local level, them complaining about certain issues not being addressed because they don't want to look bad. That tears me up. Look bad and fix it. Make yourself look good by caring for your citizens. That's what I think needs to take place."
Now, she makes enough that she can stay out of the lines for food. She can buy enough food for her and her son for dinner, but the financial devastation will probably continue for years to come, she said.
"I'm lucky: I can cook. You give me a kitchen, and I can make some money — given I can stand long enough to do it."
That attitude has been in her family for generations. Her grandfather and grandmother — one maternal and one paternal — both owned restaurants. She was often around her family and their food.
"I remember the Globetrotters coming in, and I got to have lunch with the Globetrotters. And I'm like: Food. Fun. Let's do this," she said. "So I started going to grandma's and hanging out with her in the summers, and it just grew from there."
Houck found herself cooking at a restaurant and people coming in when she was working to see her and eat the food she prepared.
"So I'm like, 'maybe I do have something. Maybe I do have the magic touch like Grandma and Grandpa,'" she said, adding that her mother had also instilled a deep love for cooking. "That's when Mama passed away, and I was like, 'I'm doing it. I'm going to go for it.'"
Her new restaurant would honor her mother and the family tradition of sharing food.
Now, business has picked up a little bit, despite limited orders for lunches from pharmaceutical representatives and wedding caterings.
"Now, it's started picking up again, so I've found a very cheap hotel to stay in," she said. "The mom and pops are doing ok, but they're barely hanging on."
She has spent much of the money she put away when business was good, and now she, too, is on the brink of disaster — now exacerbated by the owner of the building that housed her kitchen deciding to sell the property.
"This is not just a COVID pandemic. This is a people pandemic," she said. "And we're suffering."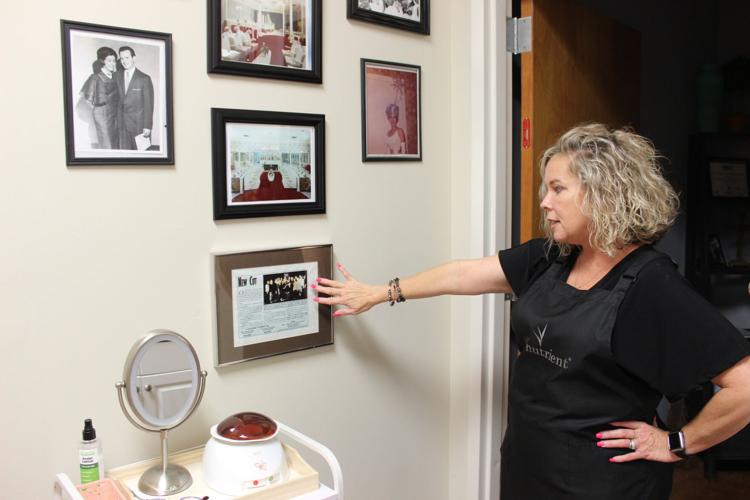 Local har salon adapts to pandemic 
The owner of New Cut in Olive Branch transitioned to a smaller studio-style salon in Hernando to reduce the risk of COVID-19 spread in her workplace. 
Whitney Jackson, who recently opened Hair Today in Hernando, brought the first salon of its kind to the city. Jackson is the only employee and stylist, and she only has two styling chairs. 
In contrast to traditional salons with chairs and people filling the room along with mirrors lining the walls, Jackson's new salon provides a much more personal — and, she says, safe — experience. 
"I felt like I could give a unique experience here," Jackson said. "It's very private, very homey."
The small space is only about 500 square feet and has a capacity limit of six people. While this setup makes appointments more intimate, Jackson said that it is also much safer. 
"Several clients are still scared to come back," Jackson said. "You don't know what you're coming in contact with."
Jackson said that her clients' fears mixed with the looming threat of potentially spreading the virus made her decide to transition to a smaller space.
"I was burnt out on being responsible, you know, that's their livelihood," she said. "A pandemic is a pandemic." Jackson said that she felt responsible for her clients' safety during uncertain times. 
Jackson, who owned New Cut for 25 years, was raised on hair styling. Both of her parents, who raised Jackson in northwest Mississippi, worked as hairdressers in the Memphis area. Her dad owned a shop in the 60s. 
In the back of her shop, Jackson dedicated a wall to pictures of her parents and family members throughout their different careers in hairdressing. In the middle of the wall, she hung a photo of the women who worked at her old salon, the majority of whom had worked there for over 10 years. 
After Gov. Reeves ordered the closure of nonessential businesses in Mississippi, all of the stylists employed by Jackson collected unemployment benefits. Once salons were allowed to re-open in May, Jackson said her stylists were not putting in full-time hours in order to keep collecting unemployment.
"Everyone had worked over 10 years and they just weren't motivated enough to work enough so they could keep collecting that $600," Jackson said. 
Until August, Mississippians who qualified for unemployment benefits received a $600 federal unemployment bonus. One of Jackson's stylists, who worked for her for many years, bought the shop from her in July. Jackson said that after she decided to sell New Cut, everything quickly fell into place as if it were "meant to be." Only three weeks after selling her old shop, she was holding the keys to Hair Today in Hernando. 
Jackson said that when she sold her salon, she had the option of retiring, starting from scratch with a new salon or going to work at a salon owned by someone else. 
"Things just happen," she said. "But I want to keep working for myself.