Horn Lake officials met Tuesday night to discuss a petition submitted by the DeSoto County unit of the NAACP for the removal of a city employee in response to an August Facebook post. 
In the post, Director of Animal Control Services Pat Hissong shared a story from conservativepost.com with the headline "BLM Protesters Walk Through Georgetown At Night Telling People to 'Wake Up' Over Megaphones." When Hissong shared the story on her Facebook page, she added the comment, "Can we just kill them please and be done with this stupid (expletive)???"
The post, which was investigated by the city of Horn Lake, has since been removed.
Following the outcry over the post, Hissong was suspended without pay for five days, according to Horn Lake Mayor Allen Latimer. Following her suspension, Hissong returned to her job.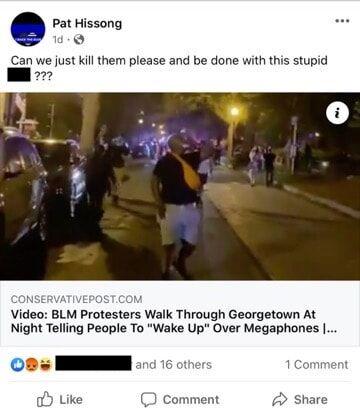 "Her comment does not reflect the views of Horn Lake, the people or the government, and we certainly don't condone them," Latimer said this afternoon. 
The DeSoto County unit of the NAACP has requested that Hissong be removed from her city government position. Rev. Robert Tipton Jr. spoke on behalf of the group and presented their petition for Hissong's removal at the Board of Aldermen meeting on Tuesday night. 
"This type of behavior must be met with strength and decisiveness, not just a slap on the wrist," Tipton said at the meeting. "It is unthinkable to think what would happen if people follow through on what was suggested in the post."
Latimer and the Board went into executive session to discuss the issue following Tipton's comments. The petition was received on Tuesday, but the issue will not be taken up until a later meeting. The board's next meeting will be held on Oct. 6.
This is a developing story and will be updated.