A piece of Horn Lake history was uncovered on Saturday, when a group of county residents reunited at City Hall to open a time capsule they had buried 20 years earlier.
In the fall of 1999, the eighth grade class of Horn Lake Middle School filled a time capsule with slices of local history. These included newspaper clippings, a VHS copy of an interview with former mayor Mike Thomas, photos of local landmarks, lists of major events from that year and predictions for the future.  
Many of the students remained in DeSoto County over the previous two decades and remembered their pledge to recover the capsule in 2020. 
"I drive by here everyday and so I've thought about it a lot," said Emily Manley, who was in the class. 
Manley contacted her former teacher, Sabelle Jackson, to see if they were still going to recover the capsule as planned. Everyone was on board but they had an issue: No one could remember exactly where it was buried.
The mayor of Horn Lake at the time, Mike Thomas, said that a plaque would be placed above the burial site as a marker, but that never happened. 
Jackson organized several recovery attempts that were unsuccessful. The capsule was made out of PVC pipe so a metal detector was no help. 
Clyde Bostick, who was among the eighth graders who buried the capsule, found it during his second attempt with the help of a local police officer. Bostick recovering it was fitting, as he was the one who addressed the crowd for his class during the May 2000 burial ceremony.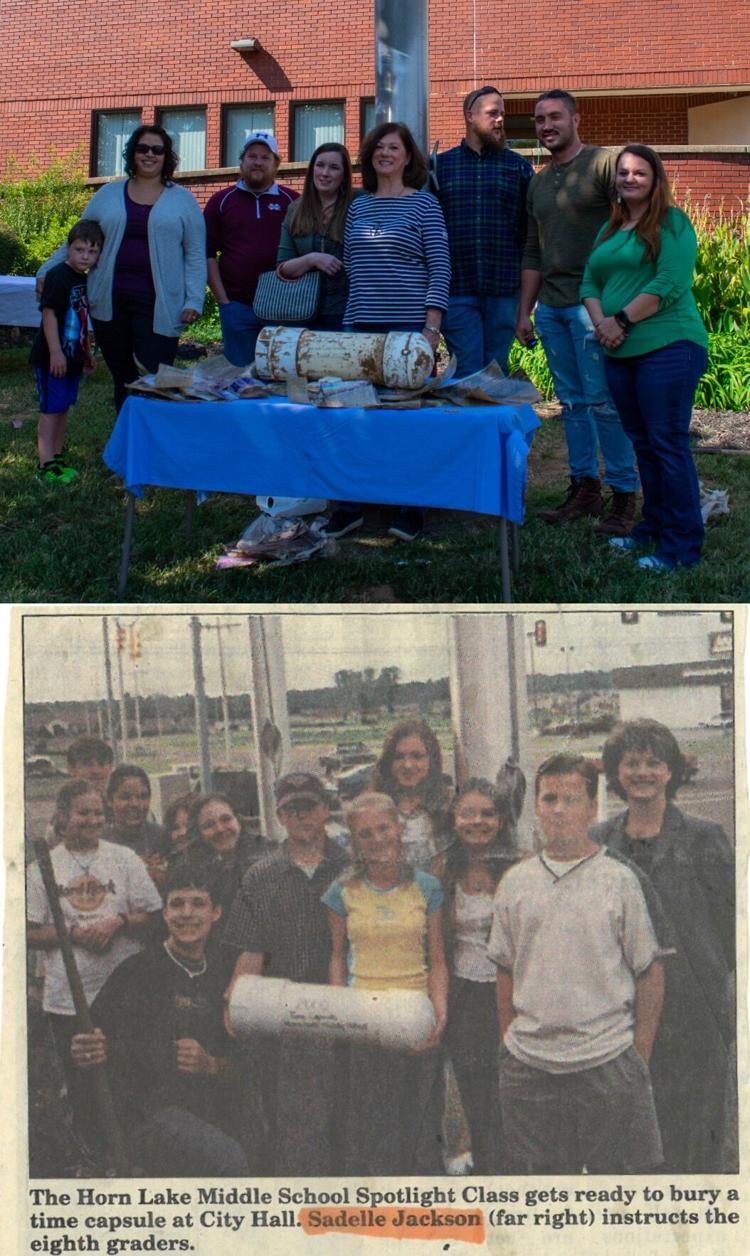 Jackson, alongside six of her former students and their children gathered at City Hall on Oct. 3 to open the capsule.
"I came to see what I forgot," Jacob Flynn, another former student, said. 
Unfortunately, water had gotten into the capsule and ruined the photos, letters and VHS tape. Most of the newspaper clippings survived the wait, having been laminated beforehand. 
Though the condition of the capsule's contents was disappointing, everyone said they enjoyed the experience of retrieving the capsule and catching up with old classmates. 
"I think it looks cool. I'm just glad to see everybody," Bostick said. 
Editor's note: An earlier version of this article should have reported that Jackson, not Jackson and her husband, organized several attempts to recover the time capsule.