A year marked by a pandemic, mass protests and a presidential election has caused a surge in gun and ammunition sales nationwide. Gun sellers across DeSoto County have experienced unprecedented demand since March. Pistols, shotguns and semi-automatic rifles are all flying off of store shelves like never before. 
"Anything modern and high-capacity is selling," said Joey Lenn, owner of Southern Guns in Nesbit. 
Gun sales always increase across the country during election years. Lenn saw a substantial bump following the election of President Barack Obama in 2008. He saw an even bigger increase following the Sandy Hook Elementary School shooting in 2012, but it only lasted for one month. The consistency of this year's spike is what sets it apart. 
For Lenn, the gun business "sucked" before sales skyrocketed in March. He had to significantly decrease his profit margins just to move inventory. Now, Lenn has the opposite problem: he can't even get what his customers want to buy. This has forced him to cut store hours and put him at the whim of distributors. 
"I can't pick up the phone and order what I want anymore," Lenn said.  "I get allocated. You can buy 'X' this week. It's play 'Let's Make A Deal.'" 
People are buying guns because they're afraid, according to Lenn. Why are they afraid? He won't say. 
"As long as their money is good, I don't ask," Lenn said.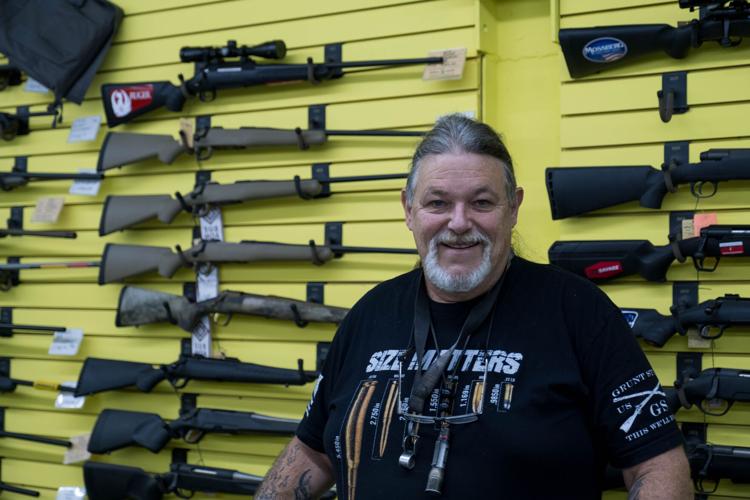 A few miles away in Southaven, more guns are being sold at Bullfrog Corner Pawn Shop than at any point in its 34-year history. Danny Metcalf, Bullfrog's owner, had to hire extra part-time workers four months ago just to keep up with all the new customers. 
The store has a reputation that brings people in from as far away as Georgia. Local radio stations sometimes feature advertisements to "come see why people come from three states to Bullfrog."
"I wouldn't have ever thought that people drive as far as they do for guns," Metcalf said. 
Some popular guns have been marked up hundreds of dollars. There is also a severe ammunition shortage, caused by the increased demand and manufacturing shortages of bullet primers because of the COVID-19 pandemic. 
Metcalf has been forced to buy ammunition from scalpers online, paying between $30-40 for a box that usually costs $8. Despite the additional markups in his store, Metcalf has had people come in and try to buy all his ammunition at once. In response, he has imposed a five-box limit on ammunition purchases. 
"I'd rather make a whole lot of customers happy than this one that wants to buy every bit of my inventory," Metcalf said. 
Some of the money coming through Bullfrog this year has been federal CARES Act funding, according to Metcalf and his employees. Taxpayers received a $1,200 stimulus check and many of those laid off due to the pandemic received an extra $600 per week in unemployment compensation through July. 
"They didn't pay their bills; they bought guns and ammo," Metcalf said. 
Graydon Byard, a 24-year-old Bullfrog employee, spent most of his stimulus check on guns. 
He has also been selling guns to many first-time owners, many of whom are motivated by the social unrest that spread across the country following the killing of George Floyd. 
The video footage of a Minneapolis police officer kneeling on Floyd's neck inspired widespread protests against police brutality. The majority of these Black Lives Matter protests have been peaceful, but the few that ended with riots and looting left many afraid they would have to defend themselves against violent protesters. 
Steve Houston, another Bullfrog employee, has been buying guns in case Joe Biden is elected president in November. He believes that a Biden administration would tax guns heavily, so it's a "get them while you can" mentality. 
Biden's platform does include numerous gun control measures, including a ban on the manufacture and sale of assault weapons and high-capacity magazines. It's enough of a threat to business that Metcalf said he will go into an early retirement if Trump isn't re-elected.
"If Biden gets in, I'm out," Metcalf said. "I'm going to give it to my son and let him run it from here on out. I've made my money this year alone."