Down winding roads outside of Hernando, an open field on an unassuming piece of land is home to a trip of over 20 goats that are sometimes rented out to be nature's weedwackers, and other times used to produce dairy products.
The goats do things that humans — even with pesticides, power tools and heavy machinery — find difficult to do alone, like clearing acres of kudzu. This breed of goats, though, has done something more remarkable: they survived near extinction.
Teresa Gregory, who has had other breeds of goats long before learning about the endangered Guernsey goats in an article, was struck when she read about them.
"I said then, 'I want those goats at some point,'" she said. "Last I heard, there were less than 1,000 in the United States, so that has become our focus."
The Guernseys, with a distinct golden color and long hair, are known to be a kind breed that can mingle with poultry and other livestock. 
"They're a wonderful, gentle, easygoing goat," she said. "They each have their own personalities, they're like your babies."
Each of Gregory's goats has a name — Saban, Moses, Tua and Lazarus are just a few — and she knows who is who, even across the field. When she calls from a distance, they seem to recognize her too, especially when she has a leafy branch in her hand.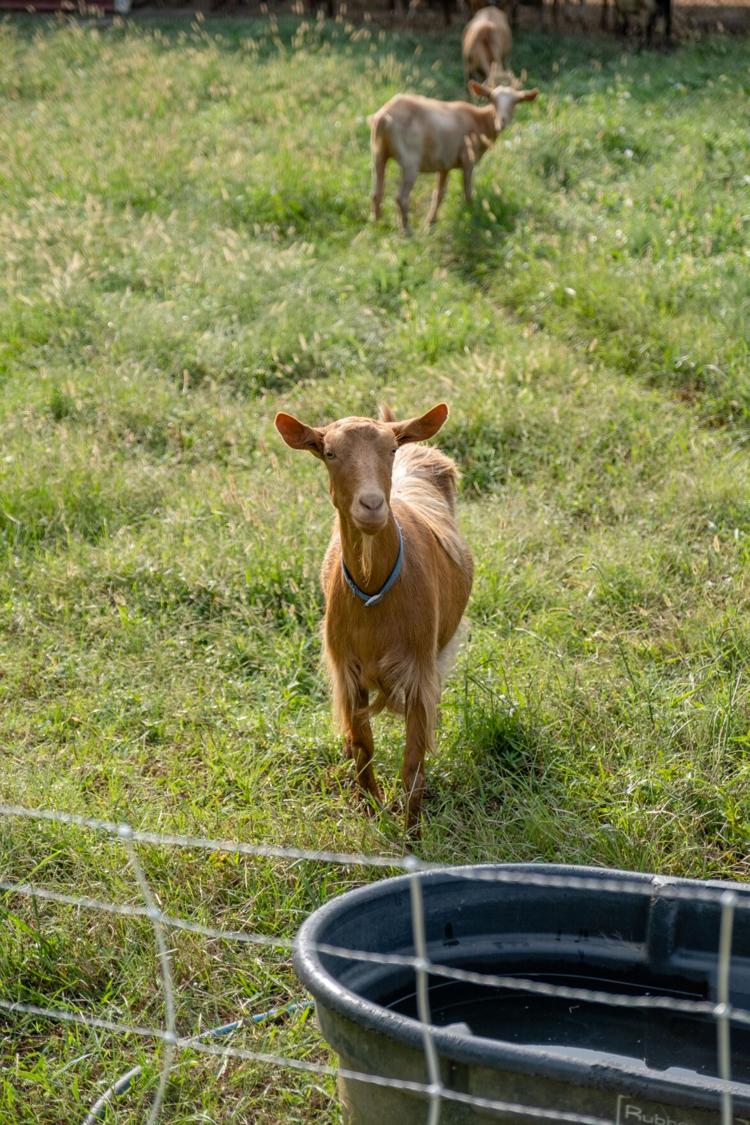 Gregory started raising the breed five years ago, but the breed's journey to Hernando took much longer. Guernsey goats are from Guernsey, an island in the English Channel. The species has been haunted by fatal diseases and other breeds overtaking them, but a more notable threat was Nazi Germany.
In World War II, a Nazi Army low on food approached the island, and Miriam Milbourne, fearful of the force eating her goats, hid them in caves around the island. Because Milbourne risked her life to save those goats, they were eventually exported to Britain and, then, the United States.
Eventually, through selective breeding, some goats in DeSoto County are now 15/16ths Guernsey. Though the Guernseys still struggled through the 1990s, their numbers have increased since.
Gregory's trip of Guernseys now lives in a quiet field, producing dairy for cheese and soap.
One company approached Gregory, asking her if the goats could clear land filled with kudzu for a new development. Though the development fell through and the goats were never used, a new business was born for Gregory.
"It was a wonderful idea they had in mind there," she said.
Now, when she gets a request, she surveys the land to help the customer decide the number of goats and how long they will need to stay — often a "mini herd" of four goats will stay for several weeks.
Once the land has been surveyed, Gregory will clear a path for a solar-powered, portable electric fence. Once the fence is set, the goats come in and clear the land, usually getting a water and grain ration to help them along as they eat the brush.
For Gregory, it's a win-win. The Guernseys have a place to thrive and grow while they clear land and produce milk that becomes cheese, soap and other products for the community.
"We have a soft spot for animals, and I guess most of our family does," Gregory said as the goats crowded near her at the fence, picking the last leaves off the branch she brought for them. "Anything that's in trouble, it's like it speaks to my heart."