The second wave of COVID-19 infections is here for DeSoto County, health officials warn.
The county has seen a sharp increase in the average number of new cases of coronavirus reported per day. One model used by local health care professionals rates the county's risk at "critical," meaning there is an active or imminent outbreak of the virus.
An intensifying spread of the virus, the return of restrictions and the arrival of cold and flu season is leaving doctors nervous about a possible crisis in the coming months.
"In the health care community, we expected a second wave," Dr. Shailesh Patel, chief medical officer at Methodist-Olive Branch, said. "I think the second wave is here."
Even with numerous contingency plans and preparing for worst-case scenarios since the beginning of the pandemic, Dr. Patel said that health care workers are worried about an uncertain future with a worsening outlook.
"We are prepared; at least we feel we are prepared," he said. "We're all back on heightened alert. We're all scared and nervous and anxious."
Gov. Tate Reeves, who reinstated a mask mandate for DeSoto County on Oct. 21, also signaled alarm at a press conference Monday about the worsening pandemic in the county.
"DeSoto County is at a point now in which it is probably, for large counties, in as bad a position, just looking at quantitative numbers as any large county in the state has been throughout this entire pandemic," Reeves said.
Both Reeves and State Health Officer Dr. Thomas Dobbs spoke on the severity of virus spread in DeSoto County during Monday's press conference, where they announced more counties would be added to the mask mandate.
"People are just spreading it. The safety measures are not widely adopted and that's just what's going to happen. There's not any specific thing, it's just prevalent in the community," Dobbs said. "There has been a little more reluctance in DeSoto County to embrace the things we know that work, and if we do the simple things, it works, and if we refuse the simple things, we get COVID spread. It's a very simple equation."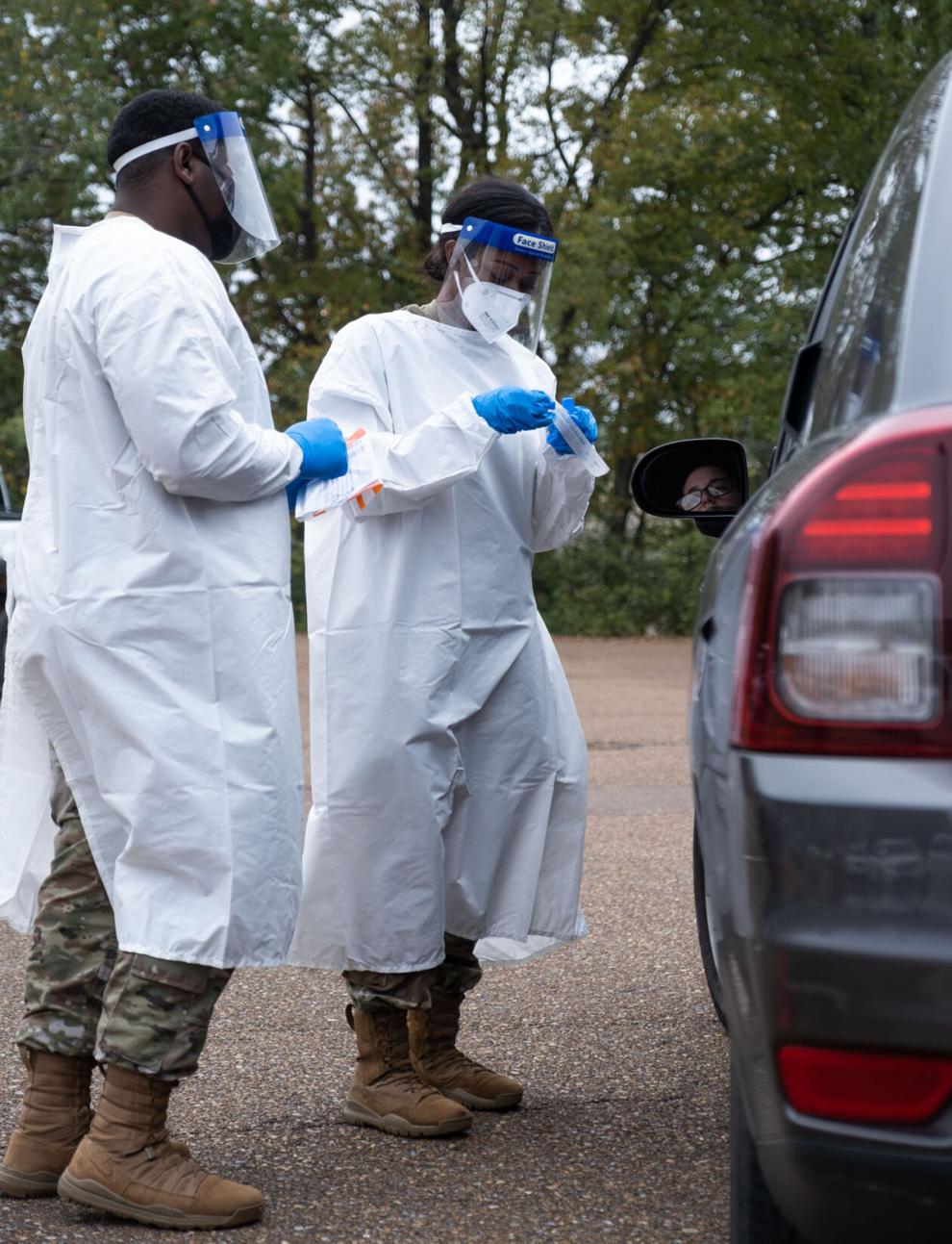 Across the state, Mississippi has seen a spike in cases since Reeves lifted the statewide mask mandate Sept. 30. Dr. Dobbs visited DeSoto County on Oct. 8 and expressed concern that the state would return to peak levels of virus transmission. He also raised alarm over a decline in Mississippians following public health guidelines seen since the mask mandate was lifted. 
Reeves announced seven new counties were being placed under mask mandates on Monday. Last week, Reeves signed an amended executive order requiring masks and limiting public gatherings in nine counties facing the most extensive virus spread, including DeSoto County. 
The new counties added to the order were Harrison, Madison, Marshall, Jones, Carroll, Leake and Benton. 
Under the order, face coverings are required in public, and social gatherings are limited to 10 people indoors and 50 people outdoors in these counties. The executive order went into effect on Oct. 21 and will expire on Nov. 11 unless extended.
When DeSoto County was added to the executive order last week, some law enforcement officers in DeSoto County said that they were not interested in enforcing the mandate, though they noted that the mandate being in place at all has caused more people to wear masks, according to some anecdotal evidence from officers.
DeSoto County now has the second-highest number of COVID-19 cases in the state, with 7,134 confirmed. The county confirmed 760 new COVID-19 cases statewide between Oct. 5-Oct. 18, the highest number statewide. Most other counties saw much lower numbers, with the closest being Harrison County's 652.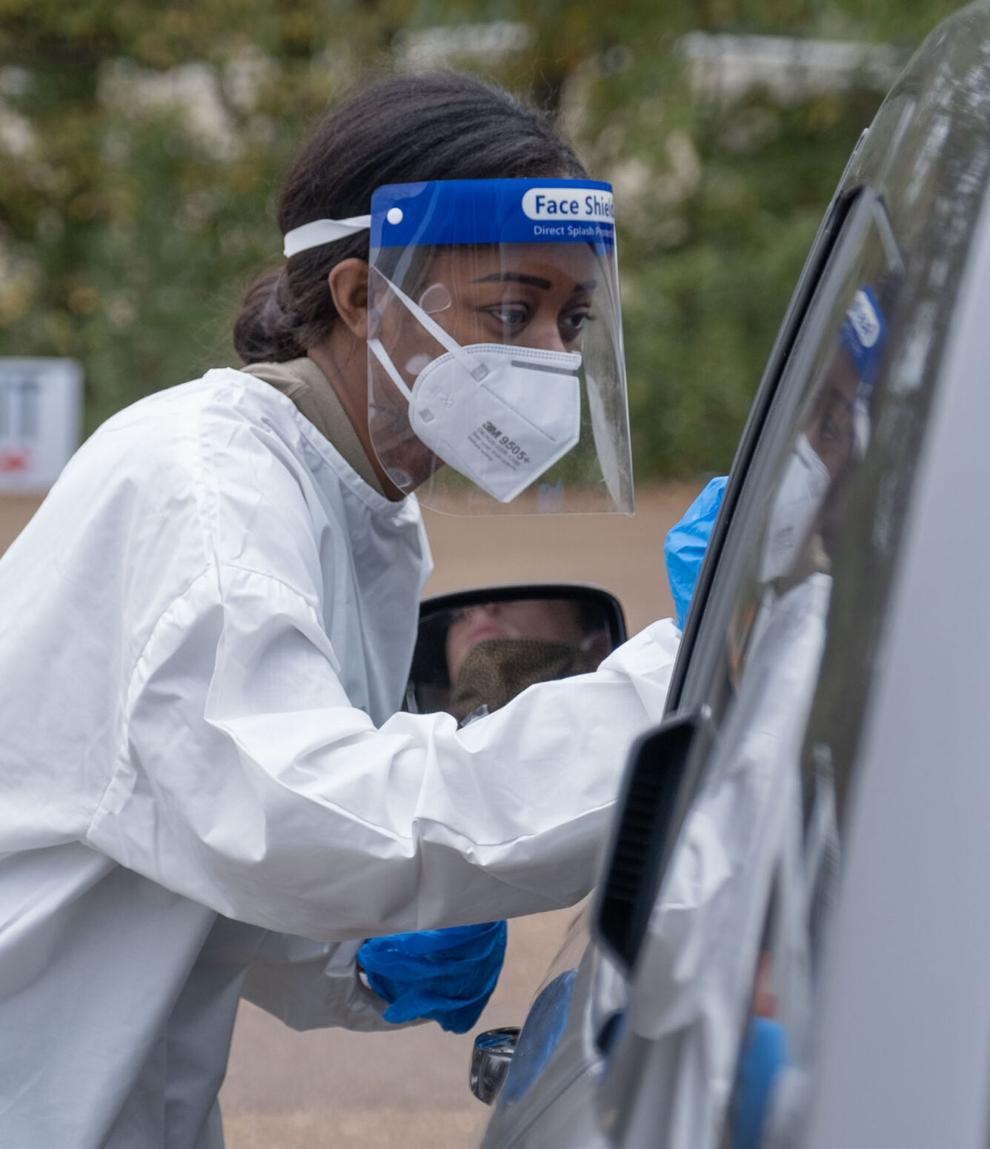 Virus spread in DeSoto County is also the highest among the state's most populous counties. DeSoto County, with the third-highest population in the state, had 410 cases per 100,000 residents over that two-week period. Hinds County, which has the highest population in the state, had 163. 
Though Shelby County and DeSoto County are both experiencing critical levels of transmission, DeSoto County, with a population only a fraction the size of its northern neighbor, still has significantly more new cases announced per day, on average.
Shelby County, like most counties in Tennessee, has experienced levels of transmission that puts it at risk of an active outbreak, if an outbreak is not already underway.
"A lot of residents of DeSoto County travel to work in Shelby County, and vice versa," Dr. Patel said. "We might as well call it one county."
As the pandemic worsens, Dr. Patel pointed to the same practices that have been touted by experts for months to protect the community: hand hygiene, wearing a mask and avoiding large gatherings.
"I think we're all getting COVID fatigue," he said. "We still have to be smart. We still have to be vigilant. We still have to be on our guard."
Dr. Richard Aycock, chief of staff at  Methodist Le Bonheur Healthcare, also acknowledged COVID fatigue among the general population and hospital staff.
"We're all getting a little tired, but that's what we chose to do for our career," he said. "So it's time to step up, and that's what we're doing."
The ICU's across the MLH network are stressed, but not yet overwhelmed, according to Aycock. If that does happen, they also have surge plans ready to deploy. Drills of the surge plans are run at different hospitals each week, and the results of them are used to optimize the plans. 
Healthcare workers have also learned many things about treating COVID-19 patients over the past few months, such as when a ventilator is needed and when to administer certain medications.
"We are in many ways better prepared to handle this than we were in the summer," Aycock said.
Aycock also thinks that everyone needs to step up and follow public health guidelines, like practicing social distancing and wearing a mask. He pointed to a recent Vanderbilt study, which found that hospitals where 25% or less of patients are under a mask requirement have seen hospitalizations increase by more than 200%. 
"The measures we put in place in the summer really worked…We're not talking about a total shutdown, what we're talking about is the common sense measures that are easy to do to help blunt this rise," Aycock said.