We visited 12 businesses across DeSoto County to see who's complying with pandemic guidelines. What we found is that most customers and employees were following the enhanced safety protocols, but enforcement was nonexistent for patrons who refuse to follow guidelines. 
DeSoto is one of 37 Mississippi counties under the enhanced safety protocols under Gov. Tate Reeves' executive orders. 
The enhanced protocols are:
All employees are required to keep at least 6 feet from other employees, or wear a face mask.

All employees must be screened at the beginning of their shift.

Employees in contact with the public must wear a face covering.

Members of the public must wear a face covering at all times in a business, except for some circumstances such as eating, or special medical conditions.
Only one business we visited was in violation of Gov. Reeves' executive orders, High Definition Salon & Spa. No employees or customers were wearing masks when we visited, though masks were for sale at the front counter. The manager of the salon declined to be interviewed for this story. 
While all businesses we visited had signs on their doors that state wearing a mask is required for entry, none were actually enforcing that rule. Business owners, managers and employees all offered the same rationale for not challenging those who violate the mask order: not wanting to cause a scene, and above all, to avoid  losing business. 
"They're in my business spending money. I'm not going to give them crap because they don't want to wear a mask on their face," said Beth Davidson, owner of House To Home, a home decor store. 
Videos have appeared across social media in recent weeks of altercations between customers and business employees who have asked the customers to wear a mask or follow other social distancing guidelines in stores across the country. The people often yell and threaten these employees, and some have even become violent or damaged store property. So in DeSoto County, many of those involved in a business's day-to-day operations believe it's best to let those without masks do as they will. 
Gov. Reeves' executive order also offers exceptions to the mask mandate for those who cannot wear a face covering due to a medical or behavioral condition. These terms are broad, and verifying a person's claim they fall under these exemptions is impossible in the moment. 
Davidson said her store averages 100 transactions per day, and only one or two of them come from people who refuse to wear masks. In those situations, she says her employees keep their distance and sanitize after when they're done shopping. 
Protecting her employees is Davidson's priority, though she says she still believes in a person's right to defy the mask orders if they prefer.
"If you are walking around without a mask on, go right ahead, but I'm going to have mine on because I don't want to die," Davidson said. "And I truly believe that's the only thing we can do right now to protect ourselves."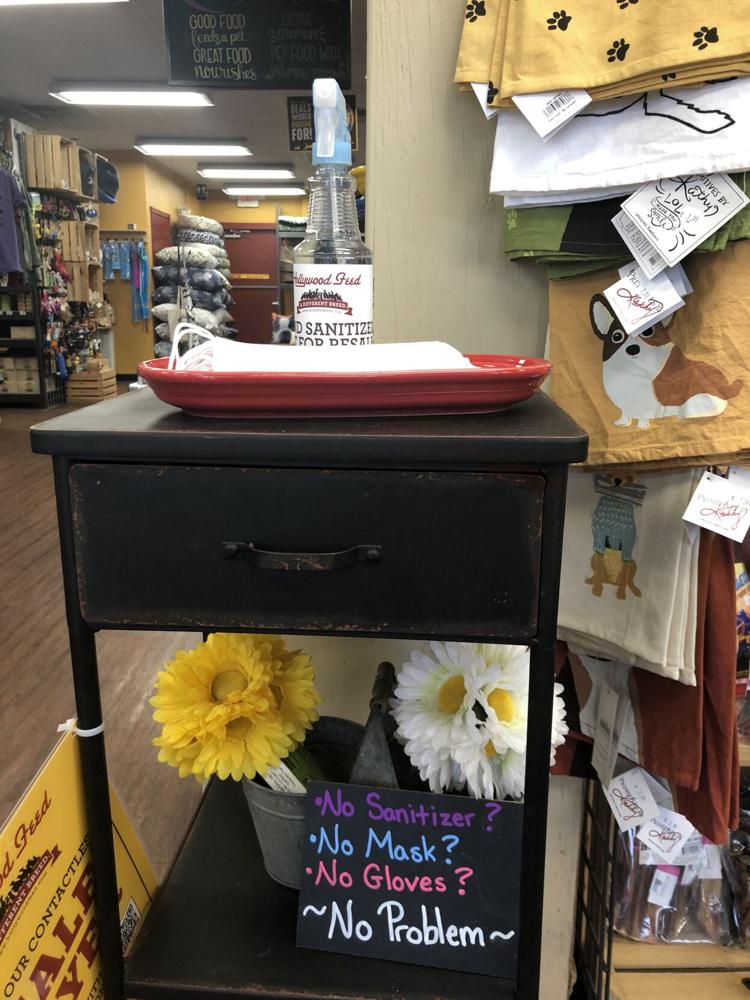 Of the 12 businesses we visited, three had customers that weren't wearing masks at the time, though that number of customers without masks was never higher than two at a time. High Definition was the only business where no employees were wearing masks. In one other business, there were some employees working without masks, but they were not in violation of the executive order because they were not in areas where they would interact with customers. 
At Hollywood Feed, a pet food store, there was only one customer not wearing a mask. Store employee Bailey Mothershed said she's seen way more people wearing masks than not. The store also set up a self-serve station with hand sanitizer and a tray of disposable face masks for anyone who forgets to bring their own. 
At Hernando Flower Shop, they're following a similar protocol. Angie Tacher, the shop's owner, said that she keeps a box of masks behind the counter and politely offers one to any customer that comes in without one.
 "I didn't want to be negative, you know, and that's the most positive way I could come up with to handle that," Tacher said.