Mrs. Gertrude Bridgeforth, 98, wants you to vote. She always has.
After a lifetime of working to ensure the right of everyone in DeSoto County to vote, Southaven has designated a day honoring her work as a civil rights and voting rights leader in the county. Bridgeforth worked against officials and law enforcement in the county in the 1960s to register African Americans to vote.
Now, she is being officially recognized, as Mayor Darren Musselwhite of Southaven designated Oct. 17 as Gertrude Bridgeforth Day in the city through an official proclamation.
Bridgeforth hasn't always been recognized by officials for her work — for most of her life, they have been working against her, even when she worked in churches to register other Black residents of the county to vote.
"I was in the time when you couldn't vote if you were African American, and my dad and I fought to get African Americans in DeSoto County registered so they could vote," Bridgeforth said. "We never was arrested or anything, but we was humiliated by the sheriffs and the deputies outside of the church where we would be meeting."
Bridgeforth would meet with other African Americans in the county through the 1960s to register them to vote.
Some of Bridgeforth's drive to register African Americans to vote at the time came from her father's inability to vote because of the color of his skin. When he attempted to register to vote, he was told he couldn't because he had two wives listed on the deed to his land, which was near where Stateline Road runs today.
Of course, Bridgeforth's father did not have two wives — he was kept from registering because he was Black, Bridgeforth said.
In 1966, her father went to Washington, D.C. to bring the issue of voter equality to Congress. While his complaint is in the congressional record, no immediate action was taken.
Bridgeforth, who marched with Martin Luther King Jr., went as far as to stand on the Hernando town square with a sign to encourage voting among African Americans.
"I stood there in the last four or five years when we was trying to get folks to register, with a sign," she said. "I don't think they cursed me, but they hollered at me. That was just about the only time that I was really afraid. But I stood out there."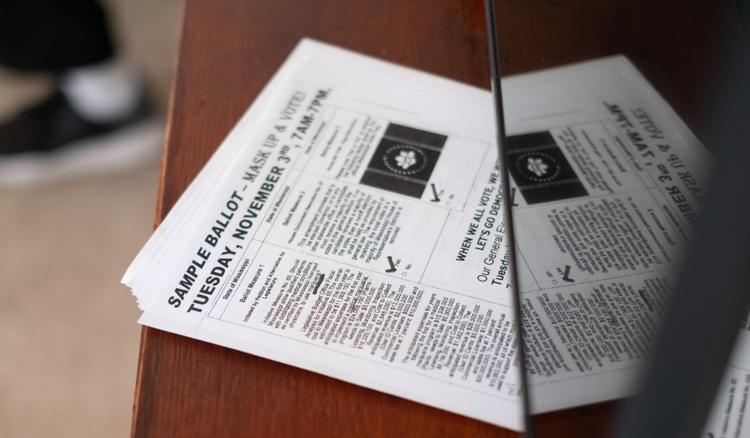 She said that the main obstacle to convincing Black citizens to vote was fear. Voting, registering to vote or helping others register to vote could cause backlash for some African Americans living in DeSoto County at the time.
Unfortunately, Bridgeforth said, that fear remains today for some.
"Even recently, I have had people tell me that they wouldn't vote," she said. "You can't put signs out in your yard because you're afraid that something might happen to you. Some African Americans won't vote because of that."
Though she acknowledged progress in many ways — especially voting technology and policies that protect an intimidation-free ballot box — Bridgeforth sees her work as ongoing.
"There's still work to be done," she said. "The fear of voting, the fear of living in a neighborhood where you don't feel comfortable speaking out… there's a lot of work to be done. And a lot of work has been done. Because at least now we don't see the sign 'colored' or 'white.'"
To this day, Bridgeforth still helps people register to vote. Sample ballots are stacked around her home to be given out to people she meets.
Bridgeforth also has a long history of fighting for civil rights across the county. She marched with Martin Luther King Jr. in Memphis during the sanitation worker strike; she was on Beale Street when riots broke out and shots were fired.
She also worked with activists in the March Against Fear, in which James Meredith led a march from Memphis to Jackson to register over 4,000 African American voters. Bridgeforth joined the march with her father and brother.
"I started off walking, but I didn't get quite to Hernando. Daddy and Brother went past, almost to Coldwater," she said. "I was driving (by that time), giving out cookies and candy to the walkers."
Family has always been an important source of inspiration to keep Bridgeforth going, she said.
When Bridgeforth found out about the day being named after her, she asked if a cousin and close friend could be named in the proclamation as well. Family has always been an important source of inspiration to keep Bridgeforth going, she said.
"I'm standing on the shoulders of my mother and my aunt, the women in the neighborhood," she said. "It's just in me to do."
Now, Bridgeforth works to increase voter participation from her home amid the coronavirus pandemic. She counts having a day named after her one of the honors of her life — along with taking a picture with President Barack Obama and former first lady Michelle Obama, which is printed large and hangs above Bridgeforth's sofa in her living room.
Though she had to watch Obama's inauguration from a train station after not being able to get into the event, Bridgeworth was brought to Washington for his first State of The Union address. There, she met the president and first lady and took a picture with them.
"That was a highlight of my life: to make a picture with the president and his wife," Bridgeforth said.
Now, she has another highlight.
"Today, to name Gertrude Bridgeforth the 17th of October as my day… when I woke up this morning, I really felt like I was somebody."