Alex Grisanti loves his food truck. There isn't much room inside — it's packed with prep tables and two ovens. Even with the windows open, it really gets hot in the summer heat. 
It's clear that he loves what he does when he interacts with customers or puts a pie in the oven, but he's ready to return to the thing that made the Grisanti name famous over 100 years ago: restaurants. 
Alex, the owner of 9 Dough 1 pizza truck and the former Elfo's in Memphis, is opening Elfo Grisanti's in Southaven next month, with a double-sided storefront that will feature a takeout pizza shop next to a classy fine dining restaurant. 
At the center of the store sits a $100,000 massive red pizza oven the size of a car, and human-sized stand mixers to match. The kitchen in the back connects to the restaurant on the other side, where Alex is already planning his classy black-and-white decor centered around an old photograph of his grandfather's liquor store, Elfo's Liquors. 
Named for his grandfather and his son, Alex's newest endeavor combines the fast-paced convenience of his pizza truck with the swanky, upscale charm of the restaurants that have been in his family for generations. Alex plans to open the takeout pizza side of Elfo's later next month.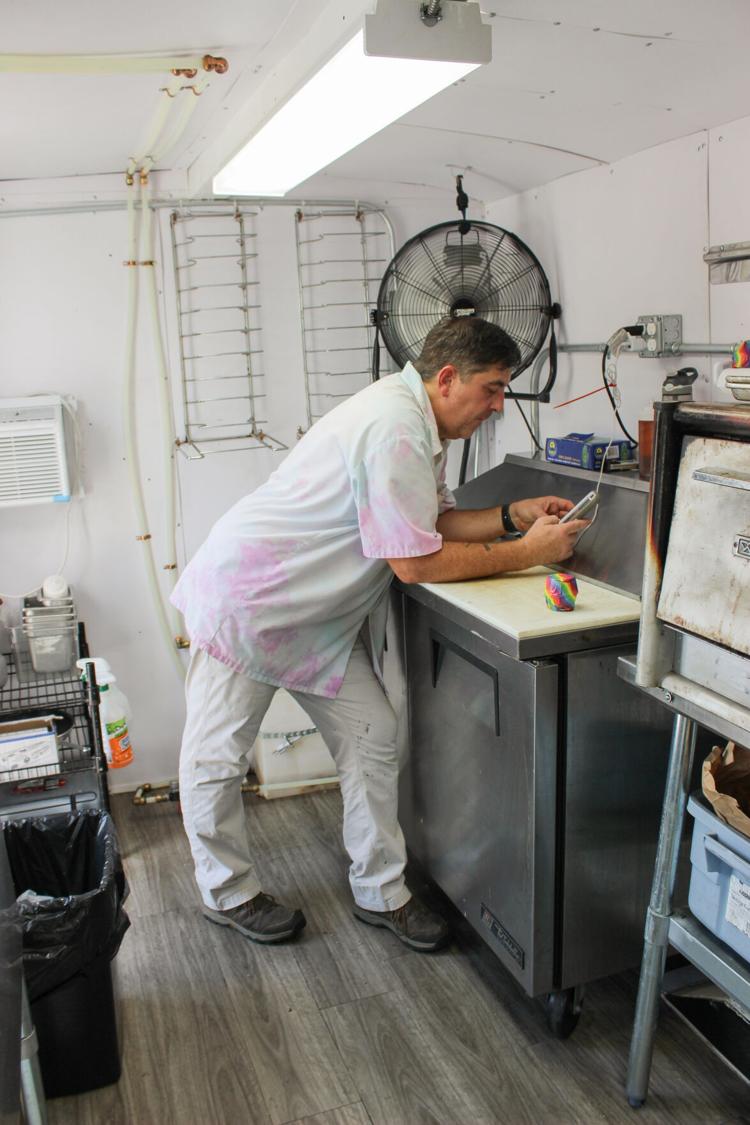 9 Dough 1, which Alex and his wife Kim opened three years ago, is parked in front of what will soon be the new Elfo's. Each day, Alex is inside the hot truck, spending his hours taking orders, chopping vegetables and cooking personal-sized pizzas for his customers. 
"We're in desperate need of some help," Alex said. He said he pretty much runs the truck by himself, with some help from his wife and family. But Alex said he loves the food truck business, and he "absolutely" wants to keep it running after he opens Elfo's.
The Grisanti family made its debut in the Memphis restaurant industry in 1927, with Alex's great-grandfather opening Ronnie Grisanti's, where his brother Judd runs the show. Alex and his father opened the first rendition of Elfo's in Memphis in 2003, until he and Kim opened a second Elfo's location in Germantown in 2008. His son, Elfo, recently opened his own restaurant in Portland, Oregon. 
After closing their doors in Germantown and running the food truck successfully for a couple of years, Alex decided he was ready to open up a brick-and-mortar restaurant again. The opportunity for the spot in Southaven was brought to him in March, and he felt like he couldn't turn it down.
"Financially, we are just taking baby steps," Alex said. "We've been running our food truck so we're staying very busy. The food truck supports the business right now."
The menu at Elfo's will feature all of the classics that Alex said have been successful at his family's other spots, like chicken ravioli and the Elfo Special, a traditional Italian dish his grandfather originated in the '60s. The dish is made of spaghetti noodles that are topped with shrimp sauteed in garlic butter.  
At his food truck, Alex has kept the menu short, with all of his most popular pies, including the meat lovers, supreme, pepperoni, barbecue and buffalo chicken. He makes each pizza fresh, with his ingredients prepared moments before the pizzas make it to the oven.
Alex said the takeout side is his first priority, and he's placed the dining portion on the backburner for now. 
"We're waiting to see what happens with COVID-19 before we open the restaurant side full time." He said that the process of opening the restaurant has been more than ideal, especially in such uncertain times. 
"It's been great," Alex said. "Everyone's been very helpful, very polite, very respectful. We're taking our time and slowly getting the things we need."
Though an official date has not yet been set, Alex is planning for a soft opening for the takeout side of Elfo's later in September. To find where 9 Dough 1 is parked for the week, check the truck's Facebook page.