We held the sales closing for the Coleman's Barbeque property the other day and it broke my heart. After 49 years of endless, day-after-day work and ownership for the Ferguson family, Bobby and Becky Ferguson have let go of the family business and laid down the burden of employees, business and schedules for a well-deserved slowdown of daily life.
While I understand, I am twisted with the pain of loss of one of the last of the pillars of old Hernando.
This was the place to get the best barbecue you ever put in your mouth, but it was so much more. This was the last of the old town coffee shops where all the news could be discussed and learned, where all the problems could be wrangled, inspected, probed and solved. This was the place, if you grew up here, you could go and count on seeing the face of a friend or at least someone who could keep you company and talk about the town, the old days and people long-gone, as well as current events.
Started around 1964 by Mae Ferguson Treadway's brother, the Coleman's chain once numbered 174 locations. Ours here in Hernando opened in 1971. Over time, the chain fell out of existence,  now down to just a couple left in the world after the closing in Hernando. I suspect it has served more barbecue than any place around. Even my Florida-raised wife, who grew up eating a mustard-based sauce, rates it as the best barbecue sandwich she ever tasted.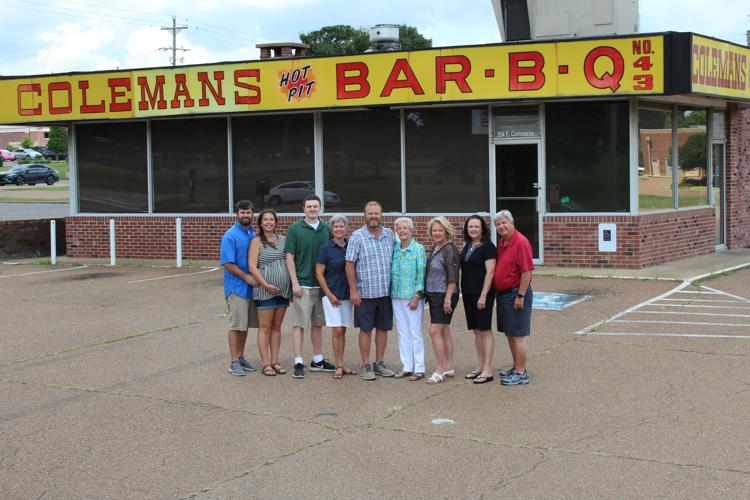 Everyone from here has stories about Coleman's and history unfolding there: first loves, first kisses, engagements, breakups, divorces, fist fights, secret rendezvous and scandalous realizations. So many important parts of life. Going there as a kid with the greatest uncle any kid ever had, Bob Shemwell (who ran the Co-Op when it was still on Center Street) and my cousins Robert and Julie or with my grandmother Louise Banks, who mostly sent me to get a barbecue to bring to her on Sunday nights after church when she didn't feel like cooking but didn't want to eat in public with "hand food" as any good southern lady of that time should have been reluctant to do.
Showing up every morning for breakfast when I came back here after law school since all my family was dead or gone, desperately needing some company, being totally alone all night after leaving the office and going out to the home place and closing the gate behind me at my great grandparents' old house.
Reconnecting with old family friends and making new ones while trying to start up my law practice. Later, taking my wife to be for the first time to meet people in the community to which she was shortly to move as a complete stranger. Years later, taking my baby son Banks to Coleman's for the first time as a "big boy" for breakfast on Saturday morning and doing the same with my baby girl Keelan a couple years later where she insisted on an egg prize from the Fred Flintstone machine like hundreds of other kids. Such sweet and special memories.
I remember so many old souls who were dear to me and this town. I remember Bobby's parents, Carl and Mae, when they ran it together at the start and Mae's many years of strong, sole ownership. I remember Bobby's grandmother, who we all called Granny and loved. She got me into trouble one night I came up to visit from Oxford after starting college. I stopped at Coleman's for a barbecue and she was working. We talked and joked and she, for some reason, decided to kid me about my car. Well, when I left, I squealed the tires to show off. Unbeknownst to me, Highway Patrolman John Magness was parked next door at Sonny Bryant's Shell station. He apparently thought I was being smart with him thinking he couldn't arrest me since it was a city street. He chased me down on the interstate and I thought he was going to kill me. If you knew John back then you knew his temper. He finally let me go — only because I was the Banks' grandkid.
I remember the stories of the old days Eulo Lloyd used to tell and the day he caught me looking at one of the cute waitresses as she walked away. He chuckled, and I asked what was so funny. He told me he was thinking about when that used to matter to him and hoped he would live long enough to see the day I wouldn't be looking anymore. I told him that day would never come! He laughed hard then. He didn't live long enough to see it, but he was right. Eulo was almost always right.
I remember the jokes of Bob Johnson and the joy he always tried to spread. You could clearly understand why the State of Mississippi used him to acquire highway right of ways as he could no doubt make you think he was your best friend after just meeting you.
I remember Joe Eli Lauderdale hanging out with us after he retired many mornings and regaling us with stories of old days. He told of the times in World War I when the older men of the town would gather every day at the train depot on Commerce to view the casualty lists coming in, my great great grandfather Mac Banks Sr. being one of those looking for reports on his youngest son Charles.
I remember Eb Leigh dribbling coffee all the way to his booth every single day in his retirement years. I think Bobby's mother Mae kept a special mop handy just for Eb's coffee trail.
I remember Wayne Anderson kicking the stew out of a guy under the table who had moved to town a couple years earlier and who was complaining to Wayne about selling a lot on Double Shovel to an African American family. Wayne invited him outside if he didnt like it.
That family was there for years and was a credit to our neighborhood for a long time.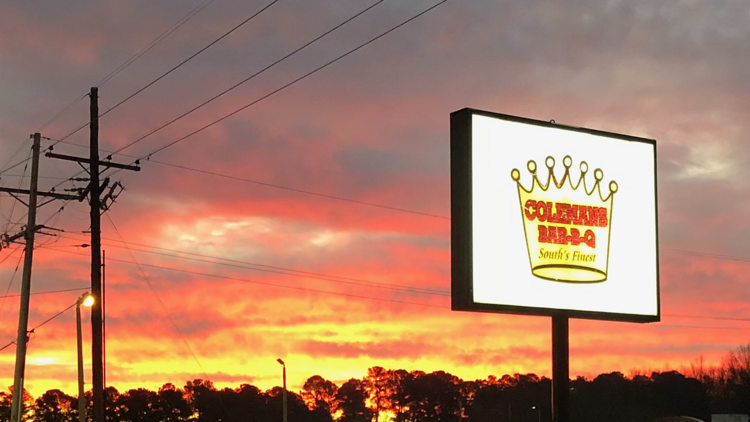 Coleman's was a must stop for any politician trying to carry DeSoto County, particularly the Hernando voting box. Everyone from senators and governors down to the local supervisor or constable had to make stops. We usually derided those who showed up only during election time, but ribbing was always good natured. Preachers of all types also populated the booths with many semi sermons delivered to obvious sinners who graced the early morning crowd.
Other than my wedding day and the birth of my children, Coleman's gave me one of my greatest days and most treasured experiences. In 1991 I ran for the state Senate against a three-term incumbent. It was a long, hot, heated, hard summer. I sure wasn't the most personally popular candidate nor was I the kind to tell you what you wanted to hear just to get your vote. I was more known as the tell-it-like-it-is kind. You knew what I thought and what I was going to do because I told you what I thought and did what I said. I wasn't really the guy you wanted to come to dinner. Let's just say I didn't get invited out for social occasions very often. On election night, I won an overwhelming victory. It was nice at the courthouse that night (where we used to gather on the lawn for election results like a big old county fair), but the real joy came next morning. Even being worn out from the campaign and victory celebrating, I kept to my schedule of going to Coleman's about 6:30. The usual breakfast crowd was inside as I parked and walked up. When I opened the door, the packed place broke into cheers, clapping and shouts of "George!" .
It was like Norm walking into Cheers on the old TV show. I waived, smiled big and dropped my head so no one would see the tears in my eyes. For a reluctant loner, it was a once in a lifetime experience that I treasure and hold dear. Gifted to me by the Coleman's crowd, engendered and grown over decades of relationships and friendships, all made possible by the existence of a little barbecue joint in a town called Hernando.
Most people who live here now don't even recognize any of these names nor their importance to this community. In all honesty, it wasn't the same at Coleman's in the last few years, with so many recent additions to town and the ensuing traffic issues, along with the general unpleasantness and lack of cordiality that seems to have permeated society in general, all of which leaked into our little coffee shop. But Coleman's was still a final reminder, — a little taste of what had been in our little town. Like Iris DeMent's song "Our Town," you can see the sun setting fast, and just like they say, nothing good ever lasts. Go on and say goodbye to our town.
Everyone and every family that ever was privileged to pass through the doors of Coleman's has their own stories, just as important and just as meaningful. I am only relating the details of our connection, a simple and insignificant microcosm of the history of the place where dreams came to life, political careers blossomed or died, and histories began or ended.
If, when I die and pass on to Glory, I walk up and see a Coleman's just inside the gate, full of old friends, my grandparents, uncle and other people I love dearly, I won't be surprised. Like many others here, this town has been loved by generations of my family, all having a different little place where everyone gathered and visited. In my time, it was Coleman's. The town I knew is disappearing and pretty much already vanquished. But it will live on in my heart and the hearts of hundreds of others who grew up here and have their own memories and stories of this place. In a little town called Hernando, a little slice of Heaven that escaped, but the Lord let it remain because it looked so pretty sitting there. All, just on the other side of the gate, just inside which set a little barbecue place called Coleman's.